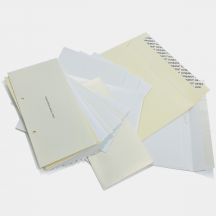 Envelops Ready Made High Quality
Envelops Ready Made High Quality , Style : DL - C5, Color : 4 , Printing Side : One side , Finishing: Gold or Silver Foil - Special Colors Foil ,
0.94 - 321.54 AED
Low cost Delivery
Quick Delivery
Hight Quality
Get the Best By One Click
Secure Payment
%100 Secure Payment
24/7 Tech Support
0509249029
"
Absolutely brilliant. The team is fantastic, they were very patient with us, listened to us. Hade is wonderful. Product quality is superb. Now our company will be using Brands Prints all the time. 10 stars out of 5 ""
Margarita Pasmore